VISION TO REALITY
Patricia Rhodes is an artist who redesigns interiors with the talent for creating fashionable homes with the perfect balance of flair, form and function.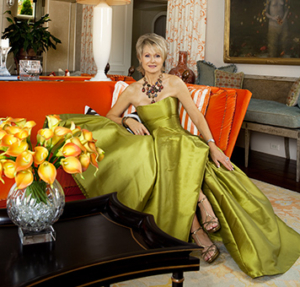 Patricia Rhodes has lived her entire life as a designer, spending her first 30 plus career years as an accomplished fashion designer of her own label, "Patricia Rhodes". During that time she was known for styling her homes with a "wow" factor combining unique color and texture combinations with her fashions as well as with furnishings, art collections and interesting accessory pieces.
After retiring from her fashion company, Patricia Rhodes' talents were transformed into new avenues – hosting dinner parties, charity events and designing home interiors. Patricia can walk into a home, inspect a room and visualize how it can be transformed into a space that is magical as well as functional.
From styling a charming home to setting a beautiful table for entertaining, Patricia is able to apply her amazing sense of style to every project she touches.
PROJECTS
Patricia Rhodes styles home interiors, entertainment and landscapes with the taste and style of who she is – a fashion designer.
Stonehill Manor
Patti
2016-09-14T18:05:30-04:00